The first 4/20 Vancouver protest
took place in 1995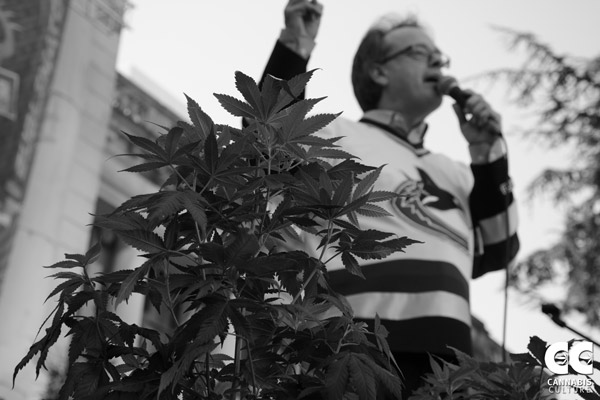 The number "420" was first used in reference to marijuana in the 1970s by a group of high school friends in California. They called themselves "The Waldos" and met every day at 4:20pm after school to smoke pot. They were also fans of the Grateful Dead, and popularized the use of "420" as code for smoking pot amongst the Dead subculture. (Further reading in this Huffington Post article.)
The actual 4/20 day as a celebration and protest started in Vancouver in 1995.

Canadian cannabis activist and media-dubbed "Prince of Pot" Marc Emery was asked by his employees at his revolutionary headshop HEMP BC store if they could host a day-long protest rally on April 20th to celebrate cannabis and call for legalization.
Marc Emery wrote the following for this 2010 Cannabis Culture article about 4/20:
I remember my store manager Danna Rozek and an employee named Cindy Lassu came up to me in early April 1995, and said, "Marc, can we have a 4/20 celebration on April 20th next door in Victory Park?" I responded, "like, on 4:20 in the afternoon on April 20?" and they said, "No, like all day on April 20."
"What will we do all day?" I asked, and they said "Smoke pot all day and play music." I replied, "we can't just smoke pot all day. That's decadent. No, you can't do it."
Rebuffed, Ms. Rozek then asked, "Can we just go ahead and do it anyway even if you don't approve?" So I said yes and the staff organized the first April 20 celebration I ever heard of, at Victory Square/Park next door.
200 people came that April 20, 1995 and it was a lovely time, with music starting at 2pm and going till 7pm.
In 1996, over 500 people came to Victory Park and smoked pot all day with the event starting at noon.
It was decided that Victory Square was too small for the 1997 April 20 smoke-fest, so the traditional political rally location of the Vancouver Art Gallery, in downtown Vancouver's financial district, was the site of the 1997 4/20 celebration. Over 1,000 people attended the 1997 Vancouver 4/20 and was widely covered in media and the phenomenon began to spread to other locations across North America."
—
The introduction and popularity of YouTube in 2006 helped show people worldwide what was happening in Vancouver. In 2007 Vancouver held the world's largest 4/20 celebration with 7,000 people packed onto the small downtown Art Gallery Square, nearly spilling onto the streets as clouds of cannabis smoke wafted through the city's core and vendors wandered around selling cannabis, which was becoming an increasingly popular activity at the event.
Each year got busier than the last, leading to the Vancouver 4/20 event being the largest free protest festival in the city, with day-long music, public speakers (always including Marc Emery until his extradition to the United States in May 2010), and the world's only open-air public cannabis farmer's market where people sell all kinds of cannabis and extracts while educating the crowd about medical marijuana, political involvement, activism, and much more.
Over 10,000 people regularly attend, with numbers reaching up to 13,000 around the 4:20pm countdown and free joint toss, which has been a fixture of the event for many years. The Vancouver 4/20 protest celebration is a unique and incredible experience that everyone is sure to enjoy!
Written by Marc Emery for Cannabis Culture