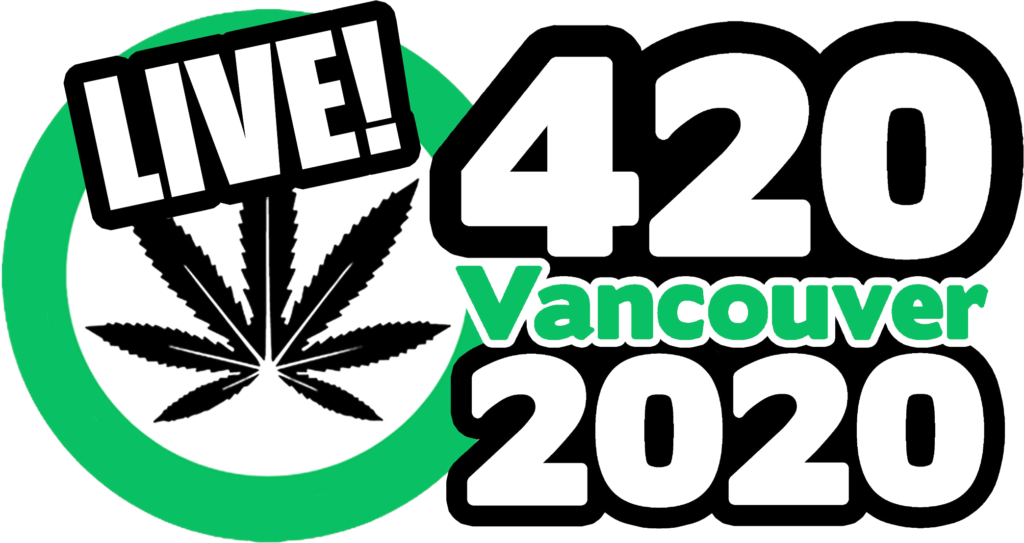 Watch 420 Vancouver's Official Celebration LIVE Online This April 20
420 Vancouver is going fully digital with a LIVE online broadcast this April 20!
Tune in to Pot TV and Cannabis Life Network to see an at-home version of our official 420 Vancouver celebration, featuring many of your favourite cannabis activists, as well as music and clips from 420 Vancouver's 26-year history.
The party starts just before High Noon (at 11:50am Pacific or 4:20pm Newfoundland Daylight Time) and will continue until we celebrate all the 4:20s across Canada.
Roll your joints and join our protestival for a social-distancing-friendly, home hotbox session this 4/20!
The effects of the COVID-19 pandemic have been felt globally, leading to venue closures and event cancellations, social distancing and self isolation – all measures aimed at flattening the curve as the coronavirus spreads.
In an effort to support and abide by these health initiatives, the decision was made to cancel this year's 420 Vancouver protest and celebration at Sunset Beach, which last year drew 150,000 people.
While we have all taken to hunkering down in our homes, following the advice of health officials and aiming to ride out the storm at hand, in an effort to acknowledge the unique and rich culture of cannabis worldwide on this iconic day, Vancouver's Studio710, collaborating with Pot TV, Cannabis Life Network, and supported by 420 Vancouver, will take the celebration online.
So light a joint, count down, and celebrate the best of cannabis culture with us on April 20.
420 2020 Cancelled Due To COVID-19 Virus Concerns
It is with great sadness that we must announce the cancellation of 420 Vancouver 2020, due to health concerns regarding the COVID-19 virus.
British Columbia health officials today announced a ban on gatherings of more than 250 people, in sync with other Canadian provinces and countries and states around the world.
Though 4/20 is a protest, it is not a protest against health officials, and it makes sense to help them protect the public from the outbreak of an infectious virus.
If you are a vendor who booked a booth, you will receive a refund over the next few days.
We're sad there won't be a 4/20 celebration at Sunset Beach this year, but we will be back to celebrate Cannabis Day on July 1 at Thornton Park in Vancouver.
We'll post information in the coming months on how to be involved! Visit CannabisDay.ca for more information.
Please sign up for news alerts and info about 4/20 below, using the e-mail sign up form.
If you have any questions or concerns, please contact us at [email protected]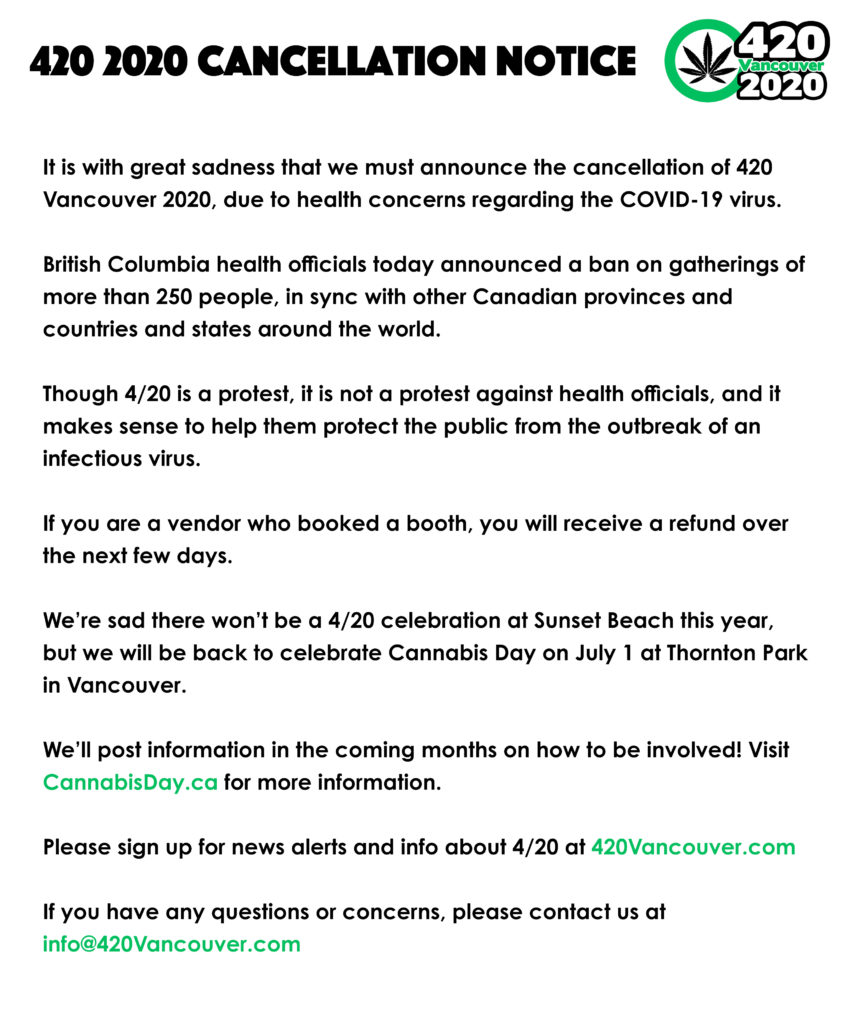 Become a 420 Insider
Get all the latest info and 420 deals to your inbox
4/20 is Special in Vancouver
April 20 is the global day to recognize the world's cannabis culture. We have been hosting 4/20 in Vancouver since 1995. Come enjoy this unique combination of protest, celebration, and farmers' market!
420 Vancouver Needs Your Help!
Please donate and help us make history.
420 Vancouver is the largest 4/20 protest and cannabis celebration on the planet. With over 100,000 in attendance and over 500 vendors every year, 420 is a unique, volunteer-run, non-profit event. Your contribution helps make 420 a safe event that is free to the public. It also goes to help us put on a free stage show, get important things like extra port-o-potties, and protect the grass at Sunset Beach!
We couldn't do it without your support!